PC GET OFF THE AIR!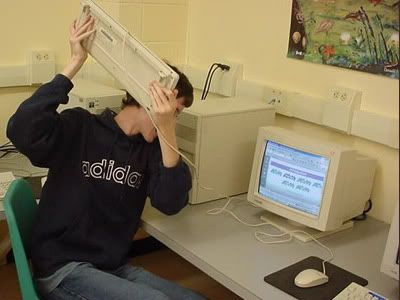 O exagerado esforço que os PCs exigem em termos de constante investimento em tecnologia efémera, o ambiente pouco amigo do utilizador e os desesperantes erros e incompatibilidades que proporciona estão a afastar muita gente.
Numa
entrevista
ao Firing Squad, o vice-presidente da Epic Games, Mark Rein, pisca cada vez mais o olho à nova geração de consolas, ao mesmo tempo que mostra o seu desencanto pela impenetrabilidade do universo dos PCs e atira muitas das culpas para cima da Intel.
"FiringSquad: What is Epic's feeling about PC game hardware and how will the Unreal engine be part of that?
Mark Rein: I wish I could report only good news but that's not the case.

(…) Unfortunately the bad side is getting really bad. It is getting harder and harder for the average consumer to buy a computer with a decent graphics chips in it.

(…) Intel salespeople are probably patting themselves on the back for these design wins but the truth is the more successful they are with this strategy the faster they could be killing off the PC games market and nobody has the balls to stand up and cry foul because Intel is so powerful.

If people take those machines home and try to play recent PC games on them they're going to have a horrible experience and possibly give up on PC gaming altogether. Users aren't educated in this area but when their new $1,500 PC says "no" to a decent PC game they're going to just assume the PC games market had passed them by. This is sad because the difference in cost the PC manufacturer to put in a decent graphics chip isn't very much."
Esta frustração é corroborada por um dos autores do blogue Game Girl Advance que, numa
carta aberta
ao seu próprio PC, desabafa da seguinte forma:
"Well you know what, PC? Fuck you. I mean, I love you, but seriously--fuck you. I'm done with your gold-diggin', 3D-positional-audio-that-has-never-fucking-worked-right, masochistic insecurities. I've had it up to here with you using my benjamins to wipe your ass and throwing parties with my credit card. Parties, mind you, to which you have never invited me! You have to have so many anti-infection shits running that you act like a schizophrenic hypochondriac on acid and yet somehow still manage to contract more diseases than Bangkok hooker."
Fico à espera dos posts irados… ;-)
ENTREVISTA MARK REIN
|
GAME GIRL ADVANCE