MASSIVELY MULTIPLAYER PONG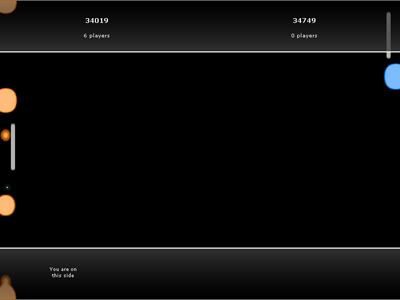 As multidões são melhores a resolver problemas, produzem mais inovação, antecipam melhor o futuro e, em geral, apresentam ideias mais inteligentes do que um único indivíduo, não importa quão brilhante ele seja – é este a ideia por trás do conceito de
smart mob
(multidão inteligente), que está a causar enorme impacto em áreas como a economia, a psicologia, a biologia, a cultura, a inteligência artificial e o conhecimento.
Clive Thompson, o autor do excelente
Collision Detection
, está fascinado com esta teoria e cita escritores como Howard Rheingold, autor do livro
'Art Mobs'
e alegadamente o pai do conceito de
smart mob
:
"Howard Rheingold showed how a massive gang of citizens connected by mobile phones toppled the president of the Philippines. And every day the unruly stock market, with its zillions of buy-and-sell orders, identifies a hot or cold company long before any individual analyst can spot it. Crowds, it seems, have a truly superhuman intelligence.
(...)
Just how inventive can an anonymous group of people be? Could an online mob produce a poem, a novel, or a painting? We like to believe that the blue bolt of artistic inspiration strikes only the individual. "[The] group never invents anything. The preciousness lies in the lonely mind of a man," John Steinbeck wrote in East of Eden."
A partir daqui, Colin Thompson apresenta o exemplo de
Massively Multiplayer Pong
, uma versão online do clássico
Pong
da Atari, em que cada uma das duas raquetas é controlada por um grupo de pessoas. O jogo assenta num algoritmo que calcula a média dos movimentos produzidos por todos os jogadores de cada equipa. Teoricamente, as decisões tomadas por todos produzem um jogo mais inteligente do que o de um único indivíduo.
Numa dada experiência, cinco mil jogadores estavam a jogar Massively Multiplayer Pong. Um autor da experiência descreve:
"Without a moment's hesitation, 5,000 people are playing a reasonably good game of Pong. Each move of the paddle is the average of several thousand players' intentions. The sensation is unnerving. The paddle usually does what you intend, but not always. When it doesn't, you find yourself spending as much attention trying to anticipate the paddle as the incoming ball. One is definitely aware of another intelligence online: it's this hollering mob."
Colin Thompson desenvolve mais o conceito do jogo
aqui
.
O colunista da New Yorker, James Surowiecki, desenvolve o tema no seu livro
'The Wisdom Of The Crowds'
.
Quanto a Massively Multiplayer Pong, podem jogá-lo
aqui
.
MASSIVELY MULTIPLAYER PONG
|
SMART MOBS
|
ART MOBS
|
COLLISION DETECTION
|
THE WISDOM OF THE CROWDS