JOGOS E NEUROCIÊNCIA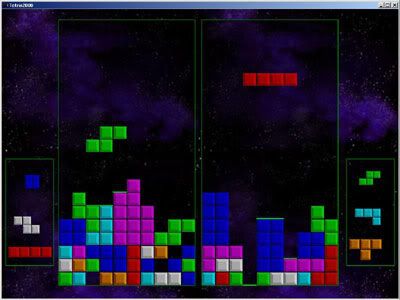 Uma das principais argumentações a favor do maior impacto da violência nos videojogos sobre as pessoas comparativamente a outros
media
tem sido que, ao contrário do que acontece com o cinema ou a televisão, a pessoa que joga relaciona-se interactivamente com o que vê no ecrã: toma decisões, sente-se como parte da acção e, portanto, será mais influenciada pelo que vê, podendo vir a mimetizar na vida real os comportamentos que "aprende" virtualmente. É uma argumentação que me remete para as
teorias de aprendizagem social
, nomeadamente do psicólogo
Albert Bandura
.
O João Vitória sugeriu-me a leitura de um artigo do Gamespot que chama a atenção para as potenciais implicações, nos videojogos, de algumas teorias relacionadas com as neurociências – em especial quanto à capacidade do cérebro distinguir claramente o que é real e virtual.
Fica aqui um trecho desse artigo:
"Motor functions, such as grasping a game controller or punching a friend in the shoulder after you lose a Tekken match, have always been understood as the result of a fairly straightforward process. There are cells in our brain that fire off signals to the muscles, and then we perform the appropriate actions. But 15 years ago, scientists studying monkeys noticed that the cells in the brain that fire when a monkey holds a peanut fire in the exact same way when the monkey simply sees someone holding a peanut. Called mirror neurons because they behave as if the monkey were watching itself in the mirror, these neurons allow the monkey to empathize, or automatically understand the experience of holding the peanut, without actually having to hold the peanut itself.

(…) This discovery, which some scientists are lauding as the most significant neurological finding in recent history, explains why we so easily relate to the actions of others, even if their actions are not always obvious. (…) It also means that we can experience the mental states associated with actions without ever having to perform those actions. In video games, in particular, it's like we're automatically empathizing with what is happening on the screen as if we were the video game characters ourselves (…).

Dr. Marco Iacoboni, (…) a neuroscientist and neurologist studying the neuron mechanisms of social behavior, with a focus on mirror neurons, imitation, and empathy. He says, "The work that we're doing in mirror neurons, what it suggests is that we have in our brains some mechanism that may induce some form of immediate behavior, and so whenever you expose kids to any form of, for instance, violence, through media, through video games or through films, then you put these kids at risk of expressing violence with their own acts because they're going to imitate that."
Quais são as implicações para os videojogos? O melhor é ler o texto completo.
Aqui
.